Before You Pour Chemicals into Your Drains
Before You Pour Chemicals in Your Drains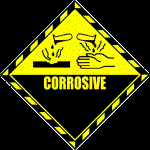 Drain cleaning chemicals are dangerous to use and are extremely corrosive. Whether caustic or acid based, these chemicals can cause severe burns and/or property damage.
10 things you should know before pouring chemicals into your drains.
Drain cleaning chemicals are dangerous.
FOLLOW LABEL DIRECTIONS
Protect your hands with heavy rubber gloves.
Wear eye protection in case the chemicals 'back fire' NOTE: A full face shield offers more protection.
Avoid breathing fumes - they can be toxic.
DO NOT mix drain cleaning chemicals with other chemicals or household cleaners. This can cause toxic gas or violent chemical reactions.
If the chemical treatment does not clear the stoppage:
Do not use a plunger - it could result in an acid leak or splash-back into your face.
Do not add more chemical - it will only make the condition more dangerous.
Call a professional and make sure they understand that the drain is contaminated in order to protect their health and their equipment.
If you are on a septic system:
Drain chemicals may change the pH in your system which could lead to system failure.
Use biological treatments as a preventive measure to keep your drains flowing freely.
For professional help with our drains, call us at (530) 842-7862
© 2004 Service Roundtable